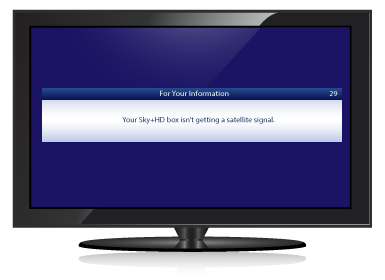 At Sat Insure we understand that your TV is an important source of entertainment, which is why we offer insurance backed service for your entire TV System.
We know first-hand the havoc British weather can have on your TV System, so our policy covers all makes of Sky equipment and cover most eventualities.
We have a UK based call centre who may even be able to solve your TV viewing problem over the phone - why not give us a call today on 0800 121 8611 to see if we can help.
Next Day Engineer
In 97%** of cases we solve the problem and replace equipment the very next day! With policies starting at £7.99* a month. There's no restriction on the amount of times policyholders can contact our FREE unlimited Technical Helpline. To see exactly what's covered Click Here.
We Are Trusted
Sat Insure has been vetted and approved by Trading Standards, who recognise that we operate in a legal, honest and fair way. We also run an ongoing satisfaction survey in conjunction with Trading Standards to ensure that if we can improve our service, we will.
We have also been a member of the Trading Standards 'Buy With Confidence' scheme since 2012; which provides consumers with a list of local businesses which have given their commitment to trading fairly. Every business listed has undergone a series of detailed checks before being approved as a member of the Buy With Confidence scheme. We are proud to currently have a five-star rating for each of their Customer Satisfaction criteria.