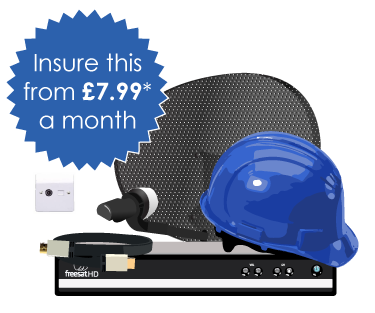 Get Freesat Insurance from Sat Insure from £7.99* per month.
Our Freesat insurance covers your Freesat Box plus up to 3 additional digiboxes, satellite dish, remote(s), exterior cabling and connecting leads. In short, it covers all the key parts of your Freesat TV setup apart from your TV.
When your Freesat box warranty runs out, repairs and breakdowns can be both time consuming and expensive. For a low monthly fee, you can have peace of mind that if your Freesat box does suffer a breakdown, we will be on-hand to help get it fixed or if needed replace the equipment to get you back up and running and enjoying your favourite TV shows.

We also offer Sky Box Insurance and Freeview insurance.
Your FreeSat Insurance Policy will cover
What's included?
Satellite Dish
The external and internal cabling
The remote control for your Freesat Box
Your policy covers up to 4 Digiboxes providing the most expensive is the one quoted on your insurance certificate
What's not included?
Breakdowns that are covered under any manufacturer's warranty
Cosmetic damage
Routine maintenance, cleaning & servicing
Damage or loss of programmes saved on hard drive
Existing faults
Why Use Sat Insure for Your Freesat Insurance?
Free technical Helpline
Contact our free technical helpline as often as you need. Our team specialise in helping get your issue fixed as quickly as possible
Next day engineer
In 97%** of cases the engineer arrives the next working day
UK based call centre
We have a UK based call centre who are ready to assist with all your Freesat insurance queries and technical help.